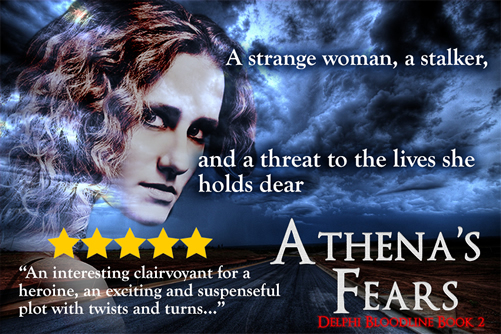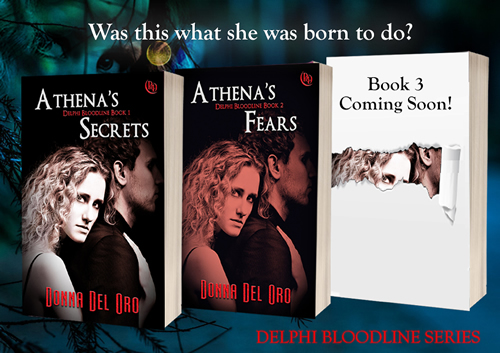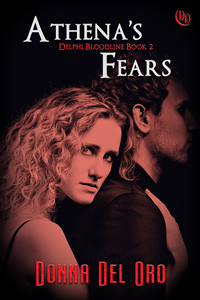 "Today is the launch for ATHENA'S FEARS, Book Two in The Delphi Bloodline series by Donna Del Oro.   Athena Butler, clairvoyant artist, has finished the art academy and is finding some success in the international world of art. When her boyfriend, a fellow artist, decides to paint forgeries, Athena breaks off with him. Again, her thoughts turn to Kas Skoros, the man she fell in love with two years before, and her Flow dimension channels his mind to her. Their special connection has never faltered over the years despite their physical separation. Meanwhile, the disturbed serial killer, whose identity she helped Metro detectives uncover, has returned to D.C., looking very different but still harboring the same homicidal urges. With all of her distractions, Athena senses his menacing presence. Will she stop him this time? What will she do when Kas makes an offer?
Coming later this year: ATHENA'S DILEMMA, Book Three
Athena Butler, the clairvoyant artist, moves to San Francisco to be with her boyfriend, Kas Skoros. She manages the art gallery in the Stargazer Tower, the high-rise, multi-use building that the Skoros Group has built in the heart of the financial district. But as a homicide detective recruits her to help him investigate the murders of the homeless who people the public parks of the city, she has another dilemma to face."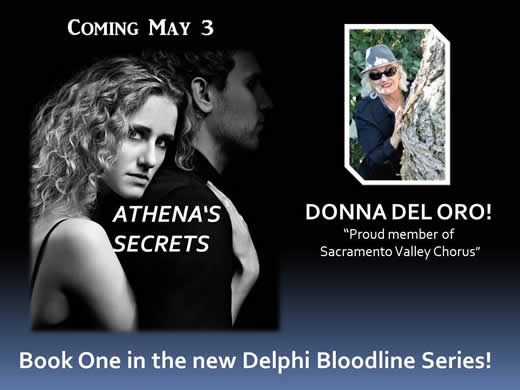 Available NOW as a PREORDER at Devine Destinies!  Clairvoyant artist Athena Butler struggles with her inherited psychic abilities as the youngest descendant in the powerful Delphi Bloodline. While an art student in Washington, D.C., she falls in love with a handsome, mysterious man who understands her extraordinary gifts, but their timing isn't quite right. Her desire to help homicide detectives identify a serial killer exposes her to potential danger when the killer's brother finds out who she is. Meanwhile, her assistance with uncovering a terrorist cell's plot to attack the British Embassy puts herself and her family at risk. Will Athena's psychic gifts be enough to save them all?
A Bodyguard of Lies Reviews
Long and Short | Harlie's Books
4.5 Stars out of 5!
Read the great review LASR gave Book One in my FBI romantic-suspense series, A BODYGUARD OF LIES!"
COMING: 2017
WHERE DANGER LIES
Book 3, the FBI romantic suspense series by award-winning author Donna Del Oro
Two vicious crimes against women prove to FBI Agent Jake Bernstein that even in beautiful San Diego, you never know WHERE DANGER LIES.
Based on actual events, two cases prove that truth is indeed stranger than fiction as FBI Special Agent Jake Bernstein is pulled into two apparently unrelated cases while he's on medical leave in San Diego. A female officer assigned to Naval Base Coronado is killed and a Muslim mother is viciously beaten and left for dead. Jake suspects something else is at work, two evils overlapping as two different worlds violently collide.
Meg Larsen accepts that Jake has a dangerous job, and is proud of his role in thwarting terrorists. She's willing to aid him in his investigations but is not so accepting of his refusal to commit to her and give her a reason to alter her own career plans.
Even as Jake arrives at a crossroads in his relationship with Meg, he must stay alert and keep both of them safe. Although San Diego is sunny and picture-perfect, you never know…
WHERE DANGER LIES.
You can find my romantic suspense books at the Wild Rose Press
What if you could read minds
with just a touch? Would you be able to trust anyone?
Athena Butler, the twenty-year-old
descendant of an ancient bloodline of
psychics, yearns to lead a normal life.
She wants a career, a boyfriend,
independence. Her clairvoyant gift,
however, has taught her that people
can be false and dangerous. Although
warned to keep her powers a secret,
she's recruited by law enforcement to
help search for a serial killer and
uncover a terrorist cell.
Can Athena stay alive long enough
to fulfill her dream?
"…cuts romance with the razored-edge
suspense of a great thriller…"
–James Rollins, NYTimes bestselling
thriller author
""In ATHENA'S SECRETS, a young woman just coming into her ESP powers is intriguing. Add in threats to her family and a blossoming love interest and you have a fascinating, fast-paced read."–Dee Brice, Author of It Takes a Thief.
Available on:
www.thewildrosepress.com
www.amazon.com
www.donnadeloro.com
ATHENA'S SECRETS HAS A RELEASE DATE: OCTOBER 16th, 2015! Soon available in ebook/print on Amazon.com/TheWildRosePress.com/Kindle/Nook.
ONE OF MY THREE PUBLISHERS, MUSA PUBLISHING, HAS CLOSED ITS DOORS AS OF MARCH 1, 2015. WHICH FORTUNATELY HAS OPENED ANOTHER LARGER AND BETTER DOOR–THE WILD ROSE PRESS, NAMED BY PREDITORS AND EDITORS AS BEST PUBLISHER FOR SIX YEARS IN A ROW!
THE WILD ROSE PRESS WILL BE PUBLISHING MY SMART ROMANTIC THRILLER SERIES, THE DELPHI BLOODLINE, ABOUT AN ANCIENT BLOODLINE OF PSYCHIC WOMEN WHOSE PRESENT-DAY HEROINE IS CLAIRVOYANT ATHENA BUTLER.
ATHENA'S SECRETS WILL BE RELEASED LATER THIS YEAR, 2015 OR EARLY 2016!!!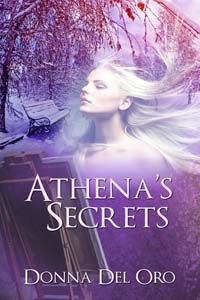 ALSO, MY FBI SERIES STARRING SPECIAL AGENT JAKE BERNSTEIN (A BODYGUARD OF LIES, LIES IN WAIT, WHERE DANGER LIES) WILL BE LAUNCHED BY THE WILD ROSE PRESS–RELEASE TO BE DETERMINED!
I'LL KEEP YOU ABREAST OF MY NEW PUBLISHER AND THE RELEASE DATES!
NOW AVAILABLE IN PRINT AT AMAZON AND EXTASY.COM/ DEVINEDESTINIES/MAINSTREAM–BOOKS ONE and TWO in my BORN TO SING series, the riveting, sexy series about professional singers, their careers and love lives!"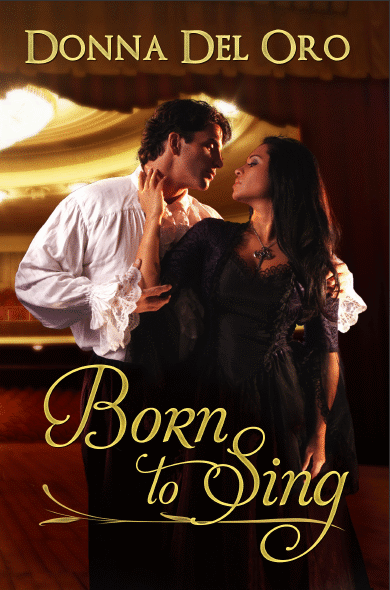 "Coming soon!  Print copies of BORN TO SING, the first exciting contemporary romance in my "Born To Sing" series about professional singers and their love lives. Go to www.extasy.com and click on their Mainstream imprint. Also available on Amazon/Kindle/Nook/Apple."
"I'm so excited! My 8th novel, WHERE DANGER LIES, is coming out September, 2014.
Book Three of my FBI romantic-suspense series features Special Agent Jake Bernstein and his girlfriend, Meg Larson, getting involved in two seemingly unrelated cases.
Are these two women-a murdered Navy lieutenant and a battered Muslim mother-victims of hate crimes? On the surface, it appears so. But Jake and Meg uncover two evil plots at work that strangely intersect. These two plots involved military espionage, a terrorist cell and murder. For even in lovely San Diego, you never know…WHERE DANGER LIES. Available Sept. 12th on Amazon, Musa Publishing, Kindle, Nook, Apple."
My 8th novel and Book 3 in the Jake Bernstein FBI romantic suspense-thriller series, WHERE DANGER LIES, is featured on Manic Readers.
New Release! June 28th, Book Two of the Jake Bernstein FBI mystery-thriller series– LIES IN WAIT."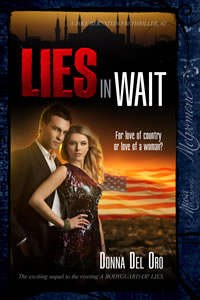 June 30, 2013 – Read my blog on Musa Publishing (scroll down to Donna's blog post) Research is Knowledge–Scary Knowledge!
READ ABOUT MY PUBLISHER'S FASCINATING SUCCESS STORY!–Donna
A BODYGUARD OF LIES
Lady Justice has a long memory as FBI analyst Jake Bernstein investigates a suspected Nazi spy wanted for war crimes.
A BODYGUARD OF LIES is a riveting blend of romantic thriller, mystery and WWII espionage.  A Jewish-American FBI analyst, Jake Bernstein, is recruited by MI-5 to go undercover and investigate a naturalized American grandmother. The elderly woman is suspected by MI-5 of being a notorious Nazi spy wanted for war crimes. Jake Bernstein runs into a series of complications: This spy knows a secret that could endanger the British royal family; his attraction to the old woman's beautiful granddaughter; an Irish, neo-Nazi group tries to kill him; and all the while, a clever, cagey old woman stands in the way of justice.
You're invited to write a review for my new eBook release, BORN TO SING 2:SCHEMING AND DREAMING IN LOS ANGELES. Just go to the following link, leave a review, copy it for me and email it, and I'll send you a free pdf copy of the book. Learn More here
Coming in 2012: More books by Donna Del Oro
Jan. 13: A BODYGUARD OF LIES, a spy-mystery  ***FBI analyst Jake Bernstein goes undercover to investigate an elderly, naturalized American grandmother suspected of WW II war crimes. Musa Publishing
March 15:  SONYA'S MIDLIFE CRISIS
*** A humorous tale about how the worst day in a woman's life can become the best thing that ever happens to her. Devine Destinies
May 25: THE DELPHI BLOODLINE, a romantic thriller
*** An ancient bloodline of psychic women is threatened when a high-tech tycoon seeks to exploit them for his global spy network. Musa Publishing
June TBA: BORN TO SING 3: ALIVE IN NEW YORK CITY
*** Talented L.A. composer Aaron Peterson takes his musical play to Broadway, only to see it highjacked by big-shot producers and a ruthless primadonna. Devine Destinies
Born to Sing 2: Scheming and Dreaming in Los Angeles

Tess MacIntosh is 29, a professional R&B singer in a nightclub in Los Angeles, owned by her fifty-something fiance, Porter Hunt. She's as cynical and as hardnosed as Porter, due to her own difficult childhood, and is marrying Porter for his money and connections. Porter, in turn, is one of those middle-aged men whose wealth and power in his little world make him feel invincible and entitled to any beautiful woman he wants.  Tess's good friend and once teenage crush, Aaron Peterson, a musician and composer with dreams of seeing one of his musical plays on Broadway, needs her to join him for a cruise gig.  He's loved Tess since he was nineteen and she was sixteen. He sees this cruise gig as his last chance to win her over before she takes a path in life that he's convinced will lead to misery. So which path will Tess choose?  Millions of dollars if she marries Porter? Or Aaron's love and Broadway dreams?

Book Two in the BORN TO SING series, a series about professional singers and their love lives! In ebook and print versions, www.extasy.com /DevineDestinies /Mainstream and at Amazon.com/Kindle /Nook/Apple Readers.

Born to Sing

BORN TO SING is about the 25-year love story of two opera singers from opposite sides of the track. For them, their opera careers are their lives…but is it truly?  Does their love and passion for each other supercede even their careers?  Take a peek into the world of Grand Opera and see what it's really like–the sacrifices, the demands, the competition. Do two talented singers have to abandon true love in order to find the Holy Grail of opera, performing in the world's great opera houses?  Or does true love win out?

Buy it now and transport yourself to the world of high-class entertainment!"

Rated 4.5 books

The Long and the Short – Clean, meaty, and interesting. If you are interested in music or opera, give this a try. If you aren't interested in this performing art, give it a read anyway; you'll enjoy the story, too!

Romance Junkies Blue Ribbon Rating: 4.5 – A compelling read, BORN TO SING is a delightfully emotion-packed women's fiction novel, which will tug at your heartstrings. This story begins just after Eva has performed her very last opera after twenty-five years of performing. She has been called home for an emergency, but while waiting for her transportation to go home, she in interviewed by a young reporter. Eva relates her life story to her, trying to keep herself composed in the process. DJ had a recent cancer scare and has had his memoirs published. During the interview, Eva recites some of his story from her autographed copy. Deliciously infused with an intriguing plot, complex and compelling characters, family conflict, the competitive world of opera, sacrifices and tender romance, this story is one you will want to read more than once. Readers will find themselves laughing at times and near tears at other as they follow DJ and Eva's story. A beautiful love story, BORN TO SING is one you do not want to miss. This is the first story I have read by this amazing author but I look forward to reading more of her works.

Operation Familia

chosen #1 on amazon.com's
"Best Chica Lit Books of All Time" list

ISBN: 978-0-915745-96-8

operationfamilia

When Dina Salazar learns that her Mexican-born grandmother has a shameful secret–a son Grandma Gomez had to abandon in Mexico sixty years before–she is reluctant at first to get involved. The uncle she has never known has died mysteriously–killed, her grandmother believes, by a rival in the Juarez drug cartel. And Abuelita's granddaughter, Teresa–Dina's Mexican cousin–is in danger and is on the run.

To Dina's dismay, her grandmother urges HER to find out where her granddaughter and great grandson are seeking refuge. Her grandmother tells her that Dina is the only one that can rescue Teresa and her son, for Dina is the only one who speaks fluent Spanish.

What's a girl to do when la familia calls?

Book Two in the Jake Bernstein FBI mystery-thriller series. LIES IN WAIT, due to be released June 28th, turned out to be a prescient warning in light of the Boston Marathon terrorist bombings. Many of the government weaknesses revealed by Jake in this story, sadly, have proven to be true. Sleeper terrorist cells, coordinated or not, lie in wait to exploit our country's weaknesses. Jake does his best to infiltrate one of these cells to stop a horrific attack aimed at one of America's favorite pastimes.

Book Two of the Jake Bernstein FBI mystery-thriller series

Lies in Wait


New Release! June 28th, Book Two of the Jake Bernstein FBI mystery-thriller series– LIES IN WAIT."Book Two: LIES IN WAITFor love of country or love of a woman?These are two of the choices FBI analyst/undercover specialist Jake Bernstein faces when he goes undercover for the Joint Counter Terrorism Center. His mission: Go to Silicon Valley and identify the masterminds behind what the JCTC chief believes is a coordinated terrorist plot that may involve five American cities.  As a disaffected, biotech scientist, Jake is recruited and tested in a harsh, brutal way. But slowly, the pieces of a possible terrorist plot begin to emerge. Still, the entire puzzle eludes Jake.  To stop the deaths of thousands of lives, he must gain access to the terrorist cell's inner circle and learn the details of their plot.For months, he doesn't break cover, all the while knowing that his lover, Meg Larsen, is living and studying in San Diego, an hour's flight away.  He fears he'll lose her while waiting for his case to break open.

In his desire to see Meg, he breaks cover one time and flies to rendezvous with her in San Diego, unwittingly involving her in his case. To maintain his cover and prove his loyalty to radical Islam, however, he must pass the ultimate test of loyalty–kill Meg, the unclean infidel, with his own bare hands. If he cannot do this, the undercover operation will fail.

As the cell lies in wait for the final, deadly call to action, Jake must make a fateful decision. Do his duty, expose the plot and save thousands of lives? Or save Meg?  Of course, he must do his duty. But can he survive his attempt to do both?

Behind the Scenes, from Donna Del Oro:

Writing this prescient story last year (think the recent and tragic Boston Marathon bombings) was a challenge. I read scores of books and articles about Islam, Muslims in America, the Qur'an, the history of Islam and the FBI's undercover and intelligence strategies in counter-terrorism. I even learned some Arabic.  What I learned, however, was both enlightening and chilling. If only Americans realized the dangers we all face…  The FBI is aware of these dangers but often they are hamstrung by the very rights we all enjoy.

My most interesting day of research was at a Silicon Valley mosque, the largest in Northern California.  Our tour guide was a former engineer who has lived in this country for nearly forty years.  I think moderate, peaceful Muslims want what all of us want, a world in which their children can thrive. On another level, there is a current of secrecy that many guard zealously. I won't say anything more except that my eyes were opened to the strange (to me) world of Islam in America.

A Bodyguard of Lies

COMING SOON:

A contemporary spy-mystery–A BODYGUARD OF LIES, the first in a series about FBI agent, Jake Bernstein, who goes undercover to catch a ruthless, dangerous spy with neo-Nazi links.

My romantic thriller, A BODYGUARD OF LIES, received a great review from Celtic Lady's Reviews

Romance Junkies….awesome romantic suspense thriller that will have you turning the pages quickly to see what will happen next.

5.0 out of 5 stars Loved Bodyguard of Lies !!!
Bodyguard of Lies by Donna Del Oro was a book that was hard to put down once I started reading it !! From the first chapter I was intriged with the characters and the story.

5.0 out of 5 stars Loved this book! My review: I loved this book! My attention was caught immediately from the first page and it kept my interest until the very last page!

5.0 out of 5 stars An exciting spy thriller worthy of Daniel Silva! This is a wonderful spy thriller that kept me wondering all the way through whether or not justice would ever be served.

5.0 out of 5 stars Great Entertainment This spy story covers alot of ground and keeps the reader interested from the beginning. FBI Agent Bernstein must work within Britain's political limitations, struggle with his.

5.0 out of 5 stars A Great Read! A Bodyguard of Lies is an exciting mystery thriller that makes you realize there are always two sides to a war.

5.0 out of 5 stars A Bodyguard of Lies This is a fast-paced read with lots of twists. An interesting modern view into the seemingly never-ending story of Nazi spies.

5.0 out of 5 stars a Modern Who- Done It I recommend A Bodyguard of Lies to anyone who enjoys a modern "Who done it?" Anyone who enjoys Catherine Coulter's FBI series, will enjoy this read.

5.0 out of 5 stars Excellent read! I just read this terrific spy thriller and found I couldn't put it down from page 1 to the last page of the book.

Sonya's Midlife Crisis

When Sonya's husband tells her he wants a divorce so that he can marry his pregnant girlfriend, she goes a little berserk! So, how does the worst day of her life turn out to be the best thing that ever happens to her? Forty-two-year-old Sonya learns it's never too late to wake up and grow up!

Reviews & Comments about Donna's Books

"Donna Del Oro is an author to watch!" ~ Loucinda McGary, award-winning author of The Wild Sight and The Treasures of Venice.

"Dina is a character that many Latinos can identify with – a woman trying to weave her own place between cultures. Around Dina, Donna Del Oro has done her own weaving: a heady plot…of crime, romance, family conflict and intrigue."
~ Carlos Alcala, Sacramento Bee Columnist

"A delightful, endearing story! You can't help but root for Dina in her journey of self-discovery."
~ Brenda Novak, Nationally bestselling author

"Wonderfully entertaining."
~ Barnes and Noble book reviewer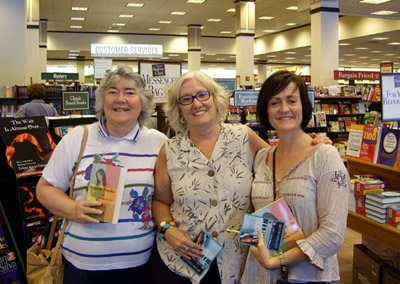 Loucinda McGary, me, and Brenda Novak
Currently working:
—Romantic poetry in Hindi for an Indian website called Hindi Shayaryian.
—a love story about two opera singers who sacrifice love for the glamour and fame of the international opera world, then find each other again.
—a humorous women's fiction story. How the worst day of Sonya's life—when her husband demands a divorce so he can marry his pregnant girlfriend—eventually becomes the best thing that ever happens to her.
—A psychic thriller. A bloodline of psychic women become the targets of ruthless kidnappers. With the help of a handsome stranger, it takes all of Athena's clairvoyant powers to discover the mastermind behind a rash of abductions.